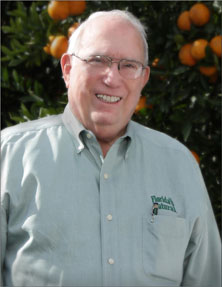 Frank M. Hunt (1928)
Inducted 2012
Highlights
Hunt has been a grower for over 60 sixty years in the Florida Citrus Industry.  His company, Hunt Brothers, is ranked as one of the top fifteen packinghouses.   He has been involved with a number of boards and committees.  He was instrumental in transforming Citrus World into Florida's Natural.
Bio
Frank M. Hunt, II was born April 2, 1928 in Lake Wales, Florida to Louise and Deeley A. Hunt. Hunt grew up around citrus. His father, a Citrus Hall of Fame Inductee, founded and operated Hunt Brothers Co., Inc. in 1925. In 1928, his father joined the Florida Citrus Exchange, and in 1933, his father became a member and founder of Florida Citrus Canners Cooperative. At an early age, Frank Hunt was exposed to the positive aspects of cooperatives. Hunt attended high school in Lake Wales. After high school, Hunt attended the University of Florida where he received his Bachelor of Science in Business Administration. When Hunt graduated from college in 1950 he met and married Margret Nelson. The same year, Hunt joined Hunt Bros. Inc. because his father's declining health.
Hunt has been an Avon Park grower for 62 years. Under Hunt, the company has seen great growth. As of this time he is the chairman of Hunt Bros. Cooperative. The cooperative owns 5,000 acres of citrus groves that sits between the Polk County and Immokalee area. In the 2010 and 2011 growing season, Hunt Bros. Cooperative shipped over One million cartons of fresh fruit and consistently has ranked among the top fifteen packinghouses.
Hunt has also been involved with several boards and committees in the citrus industry. He was a Citrus World board member for over 50 years, acting as the president and chairman from 1973 to 2003. In 1987, Hunt was instrumental in transforming Citrus World into Florida's Natural. Florida's Natural is a cooperative that is well-known for its move from production to marketing. They are best known for their shift from concentrate juice to fresh fruit juice. Florida's Natural is the third largest retailer of orange juice products in the United States. As of this writing, the cooperative is owned by 13 various members, who represent about 1,000 growers with more than 50,000 acres. In the 2010 and 2011 growing season, the cooperative provided more than fifteen million boxes of citrus. Hunt also served as a founding board member of CoBank, a large cooperative national bank established to help the future of U.S. farm system. Hunt has also served on the board of Florida Citrus Packers, Florida Fresh Citrus Shippers Association, and Erskine College.
Hunt has made numerous contributions to the Florida citrus industry. He has helped to develop Florida's Natural into one of the largest citrus cooperatives in Florida. Hunt has bought and developed 9,000 acres in South Florida to sell back to individual growers committed to Florida's Natural. He has also helped merge Highlands Crate Company in Central Florida with the Exchange Supply and Service Company in Indian River to form HESCO. Hunt also helped raise two million dollars for a new building at UF's Citrus Research and Education Center at Lake Alfred. He has been active in the Presbyterian Church both at the local and national level.
Frank Hunt has been awarded numerous accolades for his times and service. He has been awarded the Rotary International Paul Harris Fellow award. He is the recipient of the John T. Lesley Award, and in 2006 he was elected for the National Cooperative Hall of Fame, an award which exemplifies Hunt's commitment to fostering cooperation within all elements of the citrus industry.