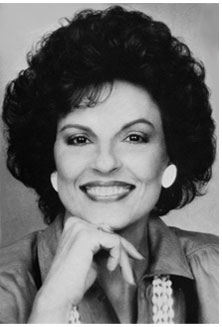 Anita Bryant (1940)
Inducted 1988
Highlights
"The Sunshine-Tree Girl"
Florida Citrus Spokesperson
Orange Cluter Award
Bio
Recognized for her work advertising Fresh Florida Citrus, Anita Bryant became the spokesperson for Florida Citrus, serving in that capacity for twelve years. Known to millions as "The Sunshine-Tree Girl," Bryant was involved with 86 television commercials, as well as numerous printed advertisements and appearances for the Florida Citrus Industry. Her efforts boosted sales of Florida orange juice substantially from 1968-1980, until her controversial political stands ended her involvement with the citrus industry. Her song, "Come to the Florida Sunshine Tree," became the theme for Florida citrus. She remains the longest-serving spokesperson for Florida Citrus, and in 1988 she became the first woman, as well as the youngest individual, to be inducted into the Florida Citrus Hall of Fame.
Anita Bryant was born on March 25, 1940 in Barnsdall, Oklahoma. She was thought to be stillborn until her persistent grandfather, John Berry, revived her. Berry  also taught her to sing at the age of 6 months. When Bryant was two years old, her grandfather taught her to sing "Jesus Loves Me," and she was soon recruited to sing in church. It was her church performances that introduced Bryant to performing in public.
The family eventually moved to Oklahoma City where Bryant continued performing, eventually starring in her own television show on WKY TV. Bryant also performed in school musicals and later starred in professional performances of "Annie Get Your Gun," "Sound of Music," and "Guys and Dolls."
Also at a young age Bryant began competing in beauty pageants, eventually becoming Miss Tulsa and Miss Oklahoma in 1958 – all the while pursuing her singing career. She enrolled at Northwestern University with the money won in various beauty contests, but her education was side-tracked as her music career took off. Her first single "Till There Was You," earned a Gold Record. She was named the "Most Promising Female Vocalist" by Cash Box as she began to travel across the country to promote her new record. Her musical career would eventually span 45 albums and garner several Grammy Award nominations.
In June 1960 Bryant married Bob Green, who eventually became her manager. Bryant also became the spokesperson for Coca-Cola, Kraft Food, Tupperware and Holiday Inns. In 1961 she joined Bob Hope as a member of his USO tours, and over the next ten years she visited the Caribbean, the Arctic, the Pacific Rim, and the Far East with the "Hope Holiday Troupe." She earned several awards for her dedication to the USO cause, including the Silver Medallion Award by the National Guard, the Veterans of Foreign Wars, Leadership Gold Medallion, the Al Jolson Gold Medal Award and Citation and the Freedom Foundation Leadership award.
By 1969 Bryant's national popularity had grown. She received much acclaim from her rendition of "The Battle Hymn of the Republic," which she performed at the 1971 Superbowl half-time show. President Lyndon B. Johnson was so touched by the rendition that he asked Bryant to perform the song at his funeral, which she did in 1973. In the next ten years, Bryant wrote ten popular books while caring for her four children. The Florida Citrus Commission in 1971 awarded her its Orange Cluster Award.
By the 1970s Bryant's outspoken support of certain political causes – particularly her advocacy of very conservative political positions – threatened her career as a spokesperson for various products, among which included Florida citrus. The controversy began in 1977 when Bryant and her husband joined a protest of a Miami city ordinance permitting homosexuals to teach in private schools. After Bryant began to develop a national profile over the issue, a backlash built up against her that ultimately led to a boycott of the products Bryant had previously marketed.
After finishing her career as a spokesman for Florida citrus, Bryant founded Anita Bryant Ministries in Oklahoma City. About that time Bryant and Green divorced and she married her childhood friend Charlie Dry. In May of 1991 she began performing again in Berryville. Arkansas. Back in Oklahoma City by 2003, Bryant began to once again lend her talents to various fund-raising causes, such as Future Farmers of America, the Cowboy Hall of Fame and the Western Heritage Museum. As of 2007, Bryant and her husband Charlie live in Oklahoma City where she is currently the president of Anita Bryant Ministries International, Inc.